The Oyster Recovery Partnership's (ORP) Shell Recycling Alliance celebrated a 100,000-bushel milestone today, along with its best collection year to date. The upsurge in shell can be accredited to the Alliance's growing network of members, including 34 new additions this year.
"The Shell Recycling Alliance has grown leaps and bounds over the past few years, allowing us to reach more restaurants and reclaim significantly more shell than ever before," said ORP Executive Director Stephan Abel. "It's wonderful to see conservation-minded businesses and communities excited to support activities that aid in the restoration of our rivers and bays."

From Ocean City, Md. to Washington, D.C., the new vendors have elected to set aside their used oyster shell so that it can be set with spat (baby oysters) and planted in Chesapeake Bay oyster reefs. More than 300 members strong, the Alliance is the largest network of shell recyclers in the country.
"The Shell Recycling Alliance is an easy way for our restaurant to operate more sustainably and show our commitment to improving the health of Chesapeake Bay," said Chad Wells, corporate chef for Victoria Restaurant Group, which includes new member Victoria Gastropub. "Not only does the program keep shell out of local landfills, it works to educate our employees and customers on the importance of oyster restoration through signage, literature and outreach events."
Natural oyster shell is vital to a healthy oyster population because it is the preferred material for oyster larvae to attach and grow. Every half shell collected by the Alliance creates a new home for approximately 10 baby oysters, and shell collected in 2016 alone will enable ORP to plant more than 100 million oysters over the next few years.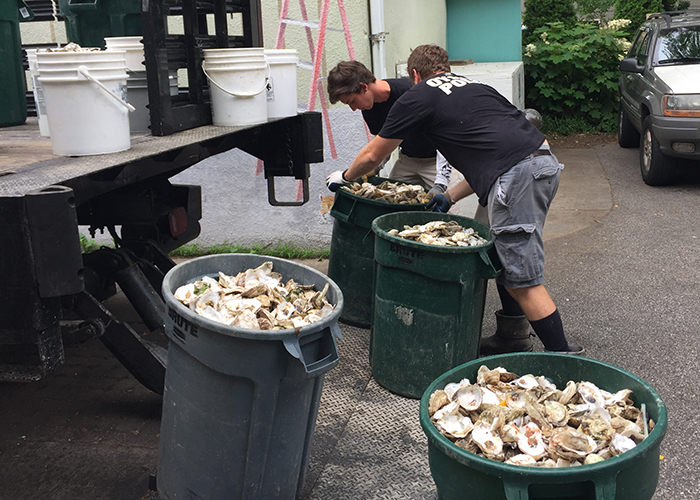 Established in 2010, the Shell Recycling Alliance is comprised of restaurants, shucking houses, markets and other seafood vendors throughout Maryland, D.C. and Virginia. Shell is also collected from public drop sites in 11 counties. Businesses and individuals who recycle their shell are eligible for a Maryland state tax credit of up to $750 annually. Learn more about this free service at shellrecycling.org.
ORP is the region's largest nonprofit dedicated to largescale restoration of oyster reefs in the Chesapeake Bay, planting more than 6.7 billion oysters on over 2,200 acres of oyster habitat in Maryland since 1993. For more information, visit oysterrecovery.org.
On a national scale, shell recycling is becoming a mainstream practice among coastal communities and businesses. As the public becomes increasingly invested in oysters, groups are establishing their own restoration and education programs, some of which are highlighted HERE.