WE ARE BUILDING A COMMUNITY OF PASSIONATE, ACTION-ORIENTED PEOPLE TO HARNESS THE POWER OF OYSTERS TO MAKE A DIFFERENCE IN THE HEALTH OF THE CHESAPEAKE BAY.
YOU CAN BE ONE OF THEM.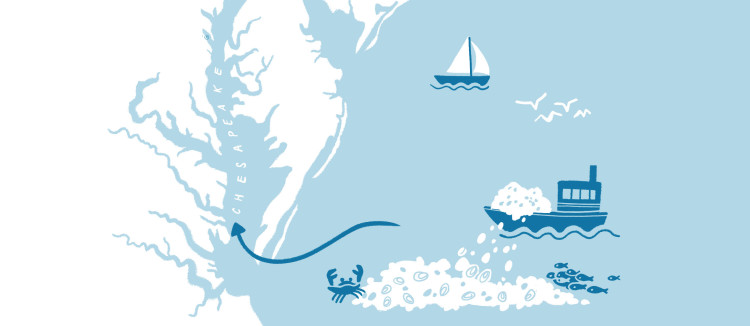 Dear friends of the Chesapeake Bay,
As I write this, the hard work and innovative strategies carried out by concerned citizens, scientists, watermen, environmental organizations and government officials are now coming to light. We are making positive changes in the state of the Bay, and it's beginning with the oyster.
This giving season, I ask you to support the health and recovery of the Chesapeake Bay.
Decades of excess runoff of silt and sediment, historical overfishing and disease severely impacted our native oyster reefs. Oysters are a keystone species because they filter nitrogen and phosphorus from the water, and serve as critical habitat for the Bay's underwater community. Properly functioning and resilient ecosystems reduce risks to our health, benefit our local economy and preserve our natural resources, not only today, but for generations to come.
Our restoration efforts are working.
With the help of our partners, each season we plant hundreds of millions of spat-covered oyster shells onto strategically chosen reefs to encourage three-dimensional growth and natural, continuous reproduction. This season we planted 872 million juvenile oysters on protected sanctuary reefs and coordinated the planting of 153 million additional oysters on harvestable public fishing grounds in the Chesapeake Bay.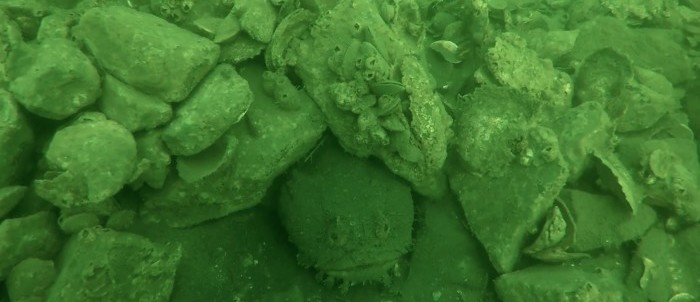 Oyster Toadfish in Choptank River sanctuary oyster reef. Credit: Paynter Labs.
Over the past two decades, ORP has planted approximately seven billion oysters on 2,400 underwater acres, the equivalent of 1,800 football fields! To ensure our projects continue to succeed long after they are built, each site is monitored to determine the survival, growth and overall health of each restored oyster reef. Will you help us continue this important work?
All successful restoration programs must, literally, begin with a strong foundation. At the Oyster Recovery Partnership, it all begins with shell.
Natural oyster shell is the best material on which to raise juvenile oysters and rebuild oyster reefs, yet it is in critically short supply. For generations oyster shell was used in road construction or ended up in landfills. To minimize the loss of this valuable material, ORP established the Shell Recycling Alliance, a regional network of hundreds of people, restaurants, caterers and seafood suppliers who are now saving their shucked shells to help rebuild reefs in the Bay. The shell collected from the Alliance supplies one third of our yearly need. A donation to ORP will help us acquire the shell necessary to continue operations and meet our restoration goals each season.
The Shell Recycling Alliance is a perfect example of the success we can achieve together. The public contributes simply by eating oysters, the restaurants reduce waste while supporting Bay restoration and ORP benefits by getting much needed shell. Since the Alliance's launch in 2010, 133,000 bushels of oyster shell have been collected, which equates to 4,660 tons of shell kept out of area landfills, and enough substrate to support the planting of 500 million oysters in our local waters.
The restoration lifecycle begins with recycled shell, and ends with hundreds of millions of oysters planted in local waters each year. We work behind-the-scenes to make it happen by:
Surveys are conducted on historic oyster bars to identify areas that will have the greatest likelihood of success for newly planted oysters. In some areas, reefs require the bottom to be elevated with mixed shell or other natural materials.
Shell is collected from ORP's Shell Recycling Alliance, shucking houses, and public collection sites where citizens drop off shell. It is then taken to Cambridge, Maryland where it's aged and cleaned.
Oyster larvae are produced by the University of Maryland Center for Environmental Science Horn Point Oyster Hatchery and settled on clean shell to produce spat-on-shell.
ORP's planting vessel, the Robert Lee, deploys the spat-on-shell onto scientifically chosen reefs.
SCUBA divers visually inspect the new reef shortly after planting. At regular intervals, ORP and its partners take samples to monitor the long-term health of each reef, and use the results to improve planting practices.
Your support has never been more important to help us continue this critical work. A $50 tax-deductible gift will enable ORP to plant 5,000 filter-feeding oysters into the Chesapeake Bay. Every oyster planted helps the survival of the species.
Thank you for supporting us in our quest to restore the local oyster population and make an impact on the future of the Chesapeake Bay.

I would like to make a gift at the following level:

Sincerely,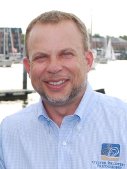 Stephan Abel
Executive Director
WE ARE COMMITTED TO MAKING A DIFFERENCE IN THE HEALTH OF THE CHESAPEAKE BAY.
We believe that oysters are the answer.
The Oyster Recovery Partnership is recognized as a top-rated organization receiving the Maryland Nonprofit's Standards for Excellence award, the Guidestar Exchange Seal and is an approved nonprofit with 1% for the Planet.
The Oyster Recovery Partnership (ORP) is a 501(c)(3) nonprofit organization, and contributions are tax-deductible to the fullest extend allowed by law. A copy of our most recent financial statement is available upon request.