The Oyster Recovery Partnership's shell recycling program collected a record 30,200 bushels of oyster shell from nearly 300 establishments across the Chesapeake Bay area in 2016, demonstrating the increasing efforts and commitment of local businesses to help restore the region's oyster population. The year's top contributors are restaurants and seafood suppliers in Annapolis, Baltimore, Hunt Valley, Jessup and Washington DC.
"We're grateful to all of our recycling members and the patrons who support these establishments for making a concerted effort to save their used shell," said ORP Executive Director Stephan Abel. "Their participation has contributed to another banner year, surpassing last year's record by 4,200 bushels, and allowing us to plant more oysters in the Chesapeake Bay than ever before."
The Top 10 Shell Recycling Alliance contributors of 2016 are:
Congressional Seafood (Jessup, MD) — 2,264 bushels (reclaimed from distribution sites)
Old Ebbitt Grill (DC) — 1,567 bushels
Jessie Taylor Seafood (DC) — 1,204 bushels
Captain White's Seafood City (DC) — 1,204 bushels
Faidley's Seafood in Lexington Market (Baltimore, MD) — 1,050 bushels
Rappahannock River Oyster Bar (DC) — 965 bushels
Mike's Crab House (Annapolis/Riva, MD) — 917 bushels
Ryleigh's Oyster (Hunt Valley, MD) — 784 bushels
Boatyard Bar and Grill (Annapolis, MD) — 732 bushels
The Local Oyster (Baltimore, MD) — 672 bushels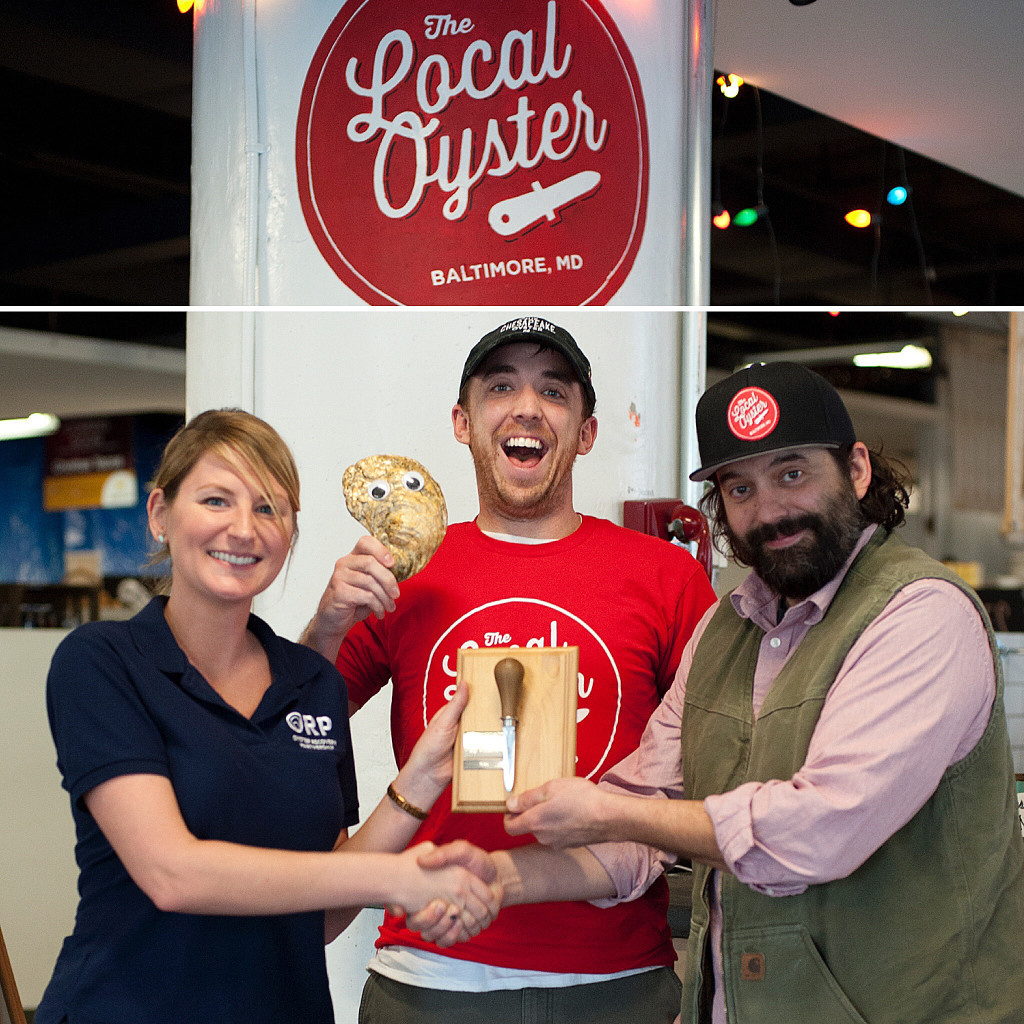 ORP events manager, Karis King, presents Patrick Hudson and Nick Schauman of the Local Oyster with their first "Top 10" award.
"We are so excited to break into the top ten!" The Local Oyster's Co-owner Nick Schauman said of his first time ranking. "Being a part of the Oyster Recovery Partnership, working with those guys, has definitely led to our success. People are more willing to give something a try if they know they're helping a cause and can do some good along the way. By harvesting farm raised oysters and recycling all of the shells, we're able provide our customers with a 100 percent sustainable product."
Looking for a way to reclaim used shell, ORP launched the Shell Recycling Alliance in 2010 with 22 restaurants. Today, the program is the largest shell recycling network in the country, with nearly 300 member seafood businesses and 60 public shell drop off sites throughout Maryland, DC and Virginia.
Natural oyster shell is vital to a healthy oyster population because it is the preferred material for oyster larvae to attach and grow. Every half shell collected by the Alliance creates a new home for approximately 10 baby oysters, and shell collected in 2016 alone will enable ORP to plant more than 150 million oysters over the next few years.
Since the program's launch, ORP has recycled 110,000 bushels, which equates to 3,850 tons of shell kept out of area landfills, $238,000 saved by local businesses in waste collection fees, and enough substrate to support the planting of 500 million oysters in local waters. Businesses and individuals who recycle their shell in Maryland are eligible for a state tax credit of up to $750 annually. Learn more about this free service at shellrecycling.org.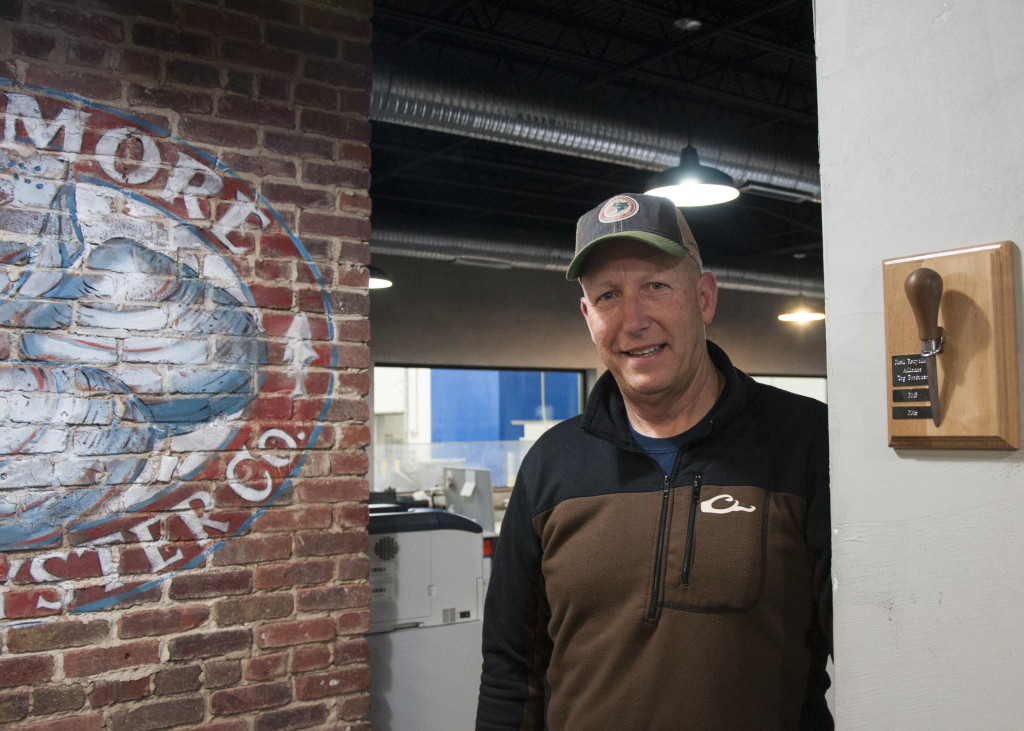 Tim Sughrue, Vice President of Congressional Seafood
Once collected, the oyster shell is aged outside for one year, washed and set with spat (baby oysters) by the University of Maryland Center for Environmental Science Horn Point Laboratory Oyster Hatchery in Cambridge. ORP plants the shell and attached spat on reefs throughout the Chesapeake Bay where they will grow and flourish. Oysters play a vital role in improving Bay health by filtering excess nutrients from the water, and their reefs create habitat for a multitude of marine life.
ORP is the region's leading nonprofit dedicated to the large-scale restoration of oyster reefs in the Chesapeake Bay, planting more than 6.7 billion oysters on over 2,400 acres of oyster habitat in Maryland since 1993.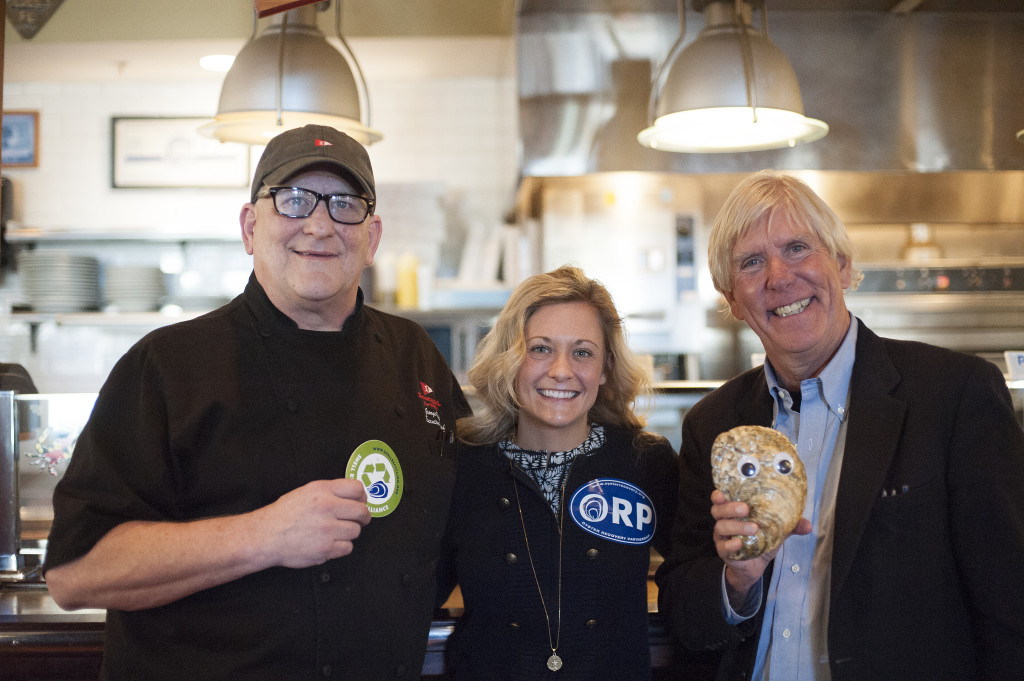 Award accepted by Boatyard Bar and Grill, head chef, George Betz and owner, Dick Franyo. 
On a national scale, shell recycling is becoming a mainstream practice among coastal communities and businesses. As the public becomes increasingly invested in oysters, groups are establishing their own restoration and education programs, some of which are highlighted here.
Media Contact: Karis King, ORP Events Manager | 410-990-4970 | kking@oysterrecovery.org