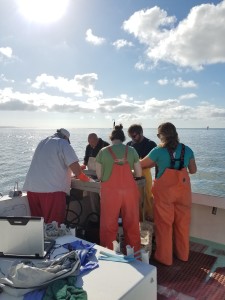 In the fall and winter, my responsibilities as the Oyster Restoration Field Specialist for the Oyster Recovery Partnership shift from time aboard the Robert Lee planting vessel, to the research vessels Callinectes and Captain's Lady, led by the University of Maryland's Paynter Lab and local waterman Captain Ben Parks, respectively.
So for a few months, before the UMCES Horn Point Lab Oyster Hatchery ramps up the production of oyster larvae (baby oysters planted in the colder, stormy weather months have a low chance of survival), my duties change from planting oysters to monitoring those planted oysters through diving and patent tonging surveys. Monitoring includes post-planting observation, Dermo disease testing, surveying oyster size and abundance, and identifying the best areas for planting oysters.
A day on the Callinectes means meeting Paynter Lab staff at 9 a.m. near Oxford at Knapps Narrows. As we travel to our site, I help organize the boat and prepare the divers for their first plunge – lifting flag markers out of the water and layering divers with enough padding to stay warm in the chilly Chesapeake water. While the researchers dive, I make sure we can see a consistent stream of bubbles, communicate with them over the transducer about the data they are collecting, and scan the horizon for boats approaching too fast or too close. After we collect samples and data, I'm dropped back at Knapps Narrows to head back to Cambridge.
On the Captain's Lady, my day looks much more like a traditional waterman's. These trips are organized by one of our consulting partners, and often involve a pre-dawn dock departure. Captain Ben Parks, the patriarch of a Dorchester County family who has lived on the Eastern Shore longer than he or his nephew Buddy can remember, sits in his captain's chair as the sun rises behind us. While the other scientists take in the sunrise, Ben comments on all the local harvesting we pass and updates us on any recent legal issues regarding oyster poaching in the area.
At the site, we sample oysters with a patent-tong on predetermined, scientifically chosen reefs. Every sample haul of oysters is measured and sorted into either live or "box," which is a term for shells that are still connected at the hinge but no longer house an oyster body. With a crew of at least five and an early start, we aim to take at least 30 samples before heading back to shore. Should the Captain's Lady run smoothly that day, we get back to the docks in Cambridge just as the sun is setting.
All of the samples collected this time of year help ORP and partners monitor the long-term health of each restored reef, and the results help create new technologies that allow us to improve our oyster-planting practices.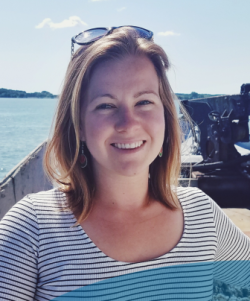 Megan Munkacsy
ORP Oyster Restoration Field Specialist