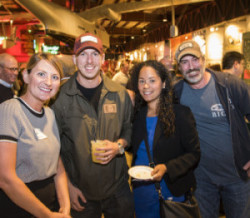 Get ready for an evening of local oysters of all shapes, sizes and flavors, fresh seafood dishes from iconic restaurants, all-you-can-enjoy craft beer and wine, and live entertainment, all to benefit our Bay's beloved bivalve! Hosted by the Oyster Recovery Partnership (ORP) and presented by Hoopers Island Oyster Co., Mermaid's Kiss Oyster Fest will feature all this and more, Thursday, Sept. 21, from 6 to 10 p.m. in Baltimore.
"Mermaid's Kiss serves as a fun way for us to maintain and expand Maryland's oyster recovery operations," said ORP Executive Director Stephan Abel. "It's not only a celebration of local seafood, but a chance to give thanks to the watermen, oyster farmers, restaurants and local businesses working to protect the health and prosperity of our Chesapeake Bay."
Guests will eat, drink and mingle while enjoying vibrant and creative small plates prepared by the following restaurants, with seafood generously donated by J.J. McDonnell, ProFish and Congressional Seafood.
Azure, Annapolis
Blackwall Hitch, Annapolis
Cardinal Tavern, Baltimore
Faidley Seafood, Baltimore
Gunther and Co., Baltimore
Harvest Wood Grill and Tap, Annapolis
La Food Marketa, Baltimore
Phillips Seafood, Baltimore
Thames Street Oyster House, Baltimore
Vida Taco Bar, Annapolis
Mermaid's Kiss will also feature live music by the Pressing Strings, a Bay-themed silent auction, specialty drinks and the freshest, tastiest oysters grown in local waters by Harris Seafood Co., Hollywood Oyster Co., Hoopers Island Oyster Co., Madhouse Oysters, Orchard Point Oyster Co., True Chesapeake Oyster Co. and War Shore Oyster Co.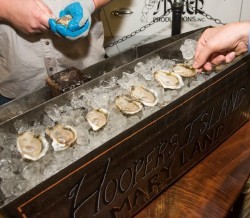 Produced through aquaculture practices, these farmed oysters are grown strictly for consumption and provide the same water quality benefits as wild oysters. Presenting sponsor Hoopers Island Oyster Co. will be displaying its aquaculture equipment and sharing information on its innovative operations.
"We are pleased to be the presenting sponsor of ORP's signature event and to showcase the critical role oysters and oyster aquaculture have in restoring sustainable fisheries in the Chesapeake – and around the world," said Johnny Shockley, Hoopers Island Oyster Co. founding partner. "Since launching our company in 2010, we've demonstrated that through technology and sustainable policies, we can join together as a community to preserve our national treasure."
Funds raised from the event will help ORP continue its efforts to create and enhance local oyster reefs, which play a vital role in improving Chesapeake Bay water quality and provide critical habitat for a multitude of marine life. Additionally, all oyster shell from the evening will be recycled, set with spat (baby oysters) and planted on local sanctuary reefs.
Mermaid's Kiss will be held at the Baltimore Museum of Industry (1415 Key Hwy, Baltimore, MD 21230). The museum once served at the Platt Oyster Cannery, one of Baltimore's longest-running and largest oyster canneries.
Tickets are $95 per person or $180 per couple. For more information, to purchase tickets and to view the full list of event sponsors, visit mermaidskiss.org.