Each oyster sold on Aug 5. will help plant 10 baby oysters!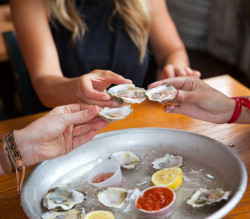 Participating restaurants throughout Maryland, Virginia and Washington D.C. will donate 10 cents from every oyster sold on National Oyster Day, Saturday, Aug. 5 to the Oyster Recovery Partnership (ORP), the leading nonprofit working to rebuild the Chesapeake Bay's native oyster population. As part of Give Back to the Bay on National Oyster Day, each oyster sale will help plant 10 spat (baby oysters) onto local oyster reefs.
"This event provides residents the opportunity to celebrate and support our local seafood industries and Chesapeake Bay oyster restoration by simply enjoying oysters at their favorite restaurants," said ORP Executive Director Stephan Abel. "With nearly 50 restaurant participants and counting, we're grateful for the community's overwhelming interest and enthusiasm in helping us protect this important keystone species."
ORP works collaboratively with its restoration partners to deploy shells with spat attached onto strategically-selected sites in the Chesapeake Bay. These efforts aim to bolster oyster populations and recreate large, healthy reefs last seen 50 to 100 years ago. Oysters are a critical species to the Bay's long-term recovery because they filter excess nutrients and serve as habitat for a multitude of marine life. Over the past two decades, the Oyster Recovery Partnership has planted approximately 7 billion oysters on 2,400 underwater acres.
All restaurants participating in Give Back to the Bay on National Oyster Day are also members of ORP's Shell Recycling Alliance, which reclaims used oyster shell so that it can be used as substrate for the oyster restoration process. Many of the oysters enjoyed today are produced through aquaculture practices, supplying much of the shell recycled to create wild oyster reefs.
"We've been recycling oyster shell with ORP's Shell Recycling Alliance since 2011, and are always seeking opportunities to give back to the Chesapeake Bay," said Candace Beattie, owner of Thames Street Oyster House. "We are very happy to be a part of this initiative and support real, tangible oyster restoration projects working to improve the health of our local waters."
For more information on Give Back to the Bay on National Oyster Day and to view a list of participating restaurants, visit: oysterrecovery.org/national-oyster-day-2017. Restaurants looking to join are encouraged to contact ORP at events@oysterrecovery.org.