Expands oyster recycling program to Maryland's Harford and Howard Counties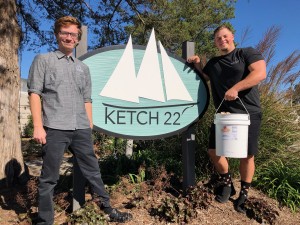 The Oyster Recovery Partnership's shell recycling program has grown by 32 restaurants and two oyster farms this year, and now offers weekly collection service to establishments in Harford and Howard counties.
The Shell Recycling Alliance is the largest shell recycling network in the nation with more than 300 member seafood businesses and 70 public shell drop off sites throughout Maryland, Washington D.C. and Northern Virginia. Through the program, the Oyster Recovery Partnership works to ensure that shell is kept out of landfills and, instead, used to rebuild oyster reefs in the Chesapeake Bay.
"We're grateful to our vast network of shell recycling partners for providing us the critical substrate needed to carryout important oyster restoration projects," said Shell Recycling Alliance Operations Manager Tommy Price. "We're always seeking new members to join our shell recycling program, which offers free, regular pickups to qualifying seafood businesses throughout the Bay region."
In Maryland, the newest Shell Recycling Alliance members are:
Al's Seafood, Essex
Annapolis Market House, Annapolis
The Bayou, Havre De Grace
The Bluebird Cocktail Room, Baltimore
Bread and Butter Kitchen, Annapolis
Bull on the Beach 2nd Street, Ocean City
Corinthian Restaurant and Lounge, Windsor Mill
Crab Alley, Ocean City
Cured 18th & 21st, Columbia
Donnelly's Dockside, Arnold
EJ's Provision Company, Laurel
Evolution Craft Brewing Public House, Salisbury
Gordon Ramsay Steak at Horseshoe Casino, Baltimore
Harris Creek Oyster Company, St. Michaels
Honga River Oyster Company, Toddville
Ketch 22, North Beach
Killarney House Irish Restaurant, Davidsonville
Lahinch Tavern and Grill, Potomac
Lib's Grill, Fulton
Ludlow Market, Bar & Bottle Shop, Baltimore
Marlin Moon Restaurant, Ocean City
Mother's Peninsula Grille, Arnold
Mutiny Pirate Bar and Island Grille, Pasadena
Preserve, Annapolis
Prime 225, Chesapeake City
The Prime Rib at Live! Casino, Hanover
Top Flight Seafood, Aberdeen
The Ugly Pig, Annapolis
The Walrus Oyster and Ale House, Columbia
In DC, Martin's Tavern and the newly-opened The Smith U Street, Union District Oyster Bar and Lounge, and Woodward Table.
And in Virginia, Copperwood Tavern in Arlington.
Natural oyster shell is vital to a healthy oyster population because it is the preferred material for oyster larvae to attach and grow. Once collected, the oyster shell is aged outdoors, washed and set with spat (baby oysters) by the University of Maryland Horn Point Oyster Hatchery in Cambridge, Maryland, and finally, planted on strategically chosen oyster reef sites where it can continue to grow and provide water quality benefits.
On a national scale, shell recycling is becoming a mainstream practice among coastal communities and businesses. As the public becomes increasingly invested in oysters, groups are establishing their own restoration and education programs, some of which are highlighted here.
Businesses and individuals who recycle their shell in Maryland are eligible for a state tax credit of up to $1,500 annually. Learn more about this free service at shellrecycling.org.