Oyster Recovery Partnership calls on restaurants and patrons to help meet shell needs.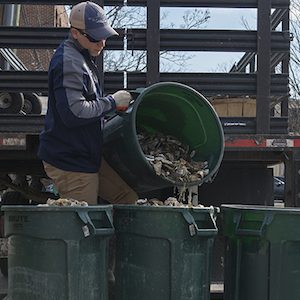 As Ocean City restaurants begin preparing for their busy season, the Oyster Recovery Partnership (ORP) is also readying for the influx of visitors, but with Chesapeake and Coastal Bay restoration in mind. ORP's oyster shell recycling crew resumed its Ocean City route last week, kicking off weekly collections from restaurants throughout the Maryland beach town.
"This season we hope to recycle a record 1,000 bushels of shell in from Ocean City, with the help of local restaurants and oyster-loving patrons," said Tommy Price, manager of ORP shell recycling operations. "We encourage any businesses that serve oysters to contact us about shell recycling and learn more about how they can become involved. Participation is free and easy– we provide your restaurant with weekly pick-ups and all of the necessary supplies."
Current Ocean City restaurant participants are:
BLU Crabhouse & Raw Bar
Bull on the Beach 94th Street
The Crab Bag
The Embers Restaurant
Fager's Island
Harrison's Harbor Watch
Phillips Seafood House
Ropewalk
Skye Bar
Waterman's Seafood Company
In Fenwick Island, Delaware, Big Eye Jacks (formerly Ropewalk)
Last season, Ocean City restaurant members recycled 824 bushels of shell from mid-May through September, supporting the planting of up to 4.1 million baby oysters into Bay waters.
"Oyster shell is the single most critical, yet limited, resource to oyster restoration, so every shell saved from the trash and used to enhance oyster reefs is a small victory," said ORP Executive Director Stephan Abel. "We're extremely fortunate to have these conservation-minded businesses continue to do their part, recycling shells and educating customers on the program and its importance to a healthy oyster population and Chesapeake Bay."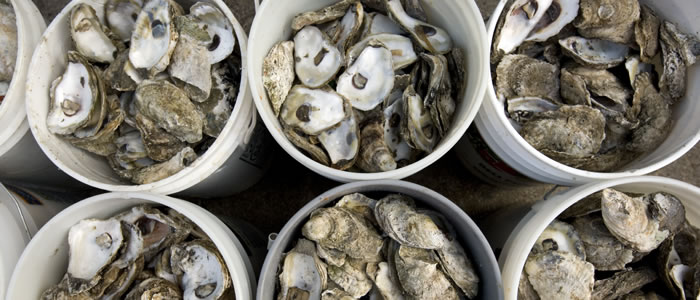 PC: Jay Fleming Photography
Officially named the Shell Recycling Alliance, the program is the largest oyster shell recycling network in the country, with more than 250 member seafood businesses and 60 public shell drop off sites throughout Maryland, DC and Northern Virginia.
Since the Alliance's launch in 2010, ORP has recycled 122,000 bushels, which equates to 4,260 tons of shell kept out of area landfills, and enough substrate to support the planting of up to 600 million oysters in local waters.
Natural oyster shell is vital to a healthy oyster population because it is the preferred material for oyster larvae to attach and grow. In fact, every half shell can host up to 10 spat. Once collected, the oyster shell is aged outside for one year, washed and set with spat (baby oysters) by the University of Maryland Center for Environmental Science Horn Point Laboratory Oyster Hatchery in Cambridge.
ORP will work with its partners throughout the spring and summer to deploy the shells with spat attached onto local oyster reefs make them larger, denser or taller, and to encourage continued spawning. It will also be used to fill cages for the State's Marylanders Grow Oysters citizen stewardship program. Oysters play a vital role in improving Bay health by filtering excess nutrients from the water, and their reefs create habitat for a multitude of marine life.
On a national scale, shell recycling is becoming a mainstream practice among coastal communities and businesses. As the public becomes increasingly invested in oysters, groups are establishing their own restoration and education programs, some of which are highlighted here.
Businesses and individuals who recycle their shell in Maryland are eligible for a state tax credit of up to $750 annually. Learn more about this free service at shellrecycling.org.