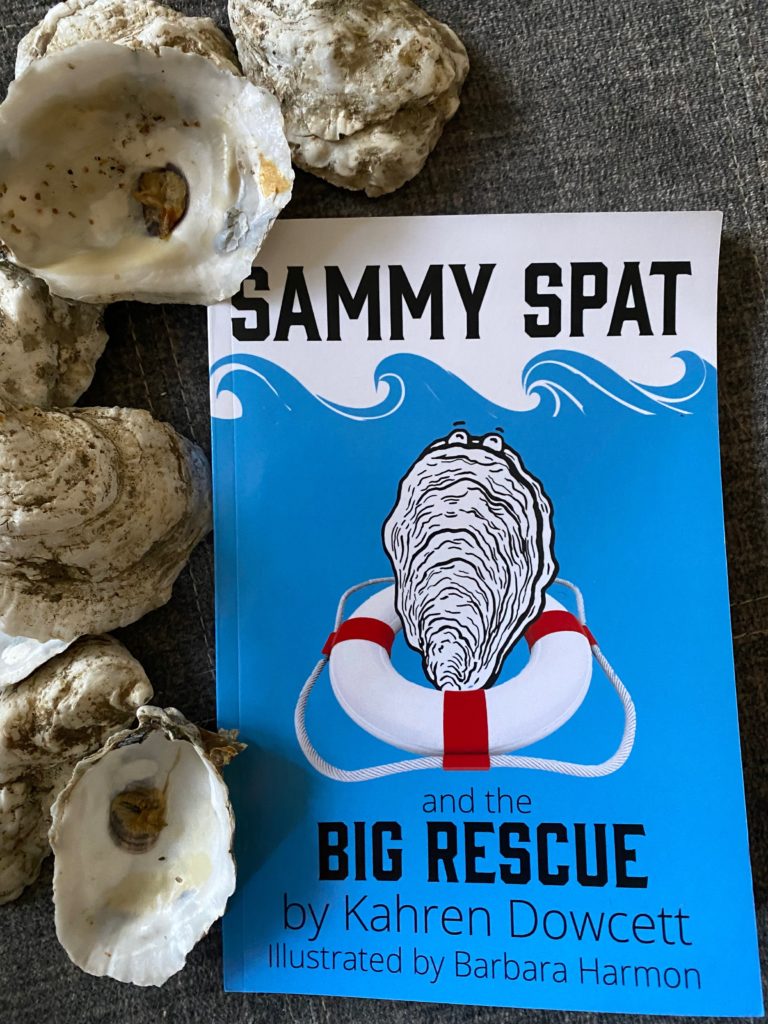 This one in a million oyster has been on a mission: inspiring his cousins around the world to not only survive, but thrive, and build back the reefs systems that once hugged shorelines around the world. But this oyster's life didn't start out with such a lofty mission.  Quite the opposite. He simply wanted to survive. With no reef system to provide shelter and companionship for him, Sammy almost didn't make it to adulthood.  But a strange twist of fate set him on a course that made him the super-hero he is today; able to ride the tide, leading repopulation efforts globally.
Could this be true?  Reefs system restored globally in 2031? We hope so. And so does the author of Sammy Spat and the Big Rescue, Kahren Dowcett.
Kahren Dowcett, Steering Committee member of the World Oyster Society, and organizer of its 6th International Oyster Symposium held in the USA in 2015 wanted to shine a spotlight on the humble oyster and its benefits.  Recently, adapted the play she wrote and produced in 2012 into a book.  The book chronicles the trials and tribulations of its central character, Sammy Spat, on his journey to maturity. The book teaches oyster science along the way.
When asked what prompted her to write the teaching tale she said, "I live on Cape Cod – home to a robust oyster industry. Being curious about the species, I started researching them.  I was shocked to learn that 85-90% of their reef systems are gone worldwide, far exceeding coral reefs. The public knows about the corals but I discovered most folks don't know oysters build reefs and that their reef systems are almost gone."
She went on to say, "Currently, oysters are not top of mind, but rather top of taste with their salty liquor served up on the half-shell at most happy-hours. Oysters pre-date humans and their natural reefs have helped us survive and thrive since our beginning.  Now, we need to return the favor and support oyster aquaculture and restoration efforts around the world.  No bees, no farms, no food.  No reefs, no habitat, no fish. Oysters are like the bees of the seas.
And so, Sammy Spat and the Big Rescue was created with the intention of increasing oyster literacy for our collective betterment and the health of our one ocean and its food supply.
Pick up a copy of Sammy Spat and the Big Rescue and get to know Sammy.  He's one in a million and on a mission – to restore reefs worldwide.  You'll be helping – a portion of the proceeds of each sale goes to Oyster Recovery Partnership.
To order a copy of Sammy Spat: