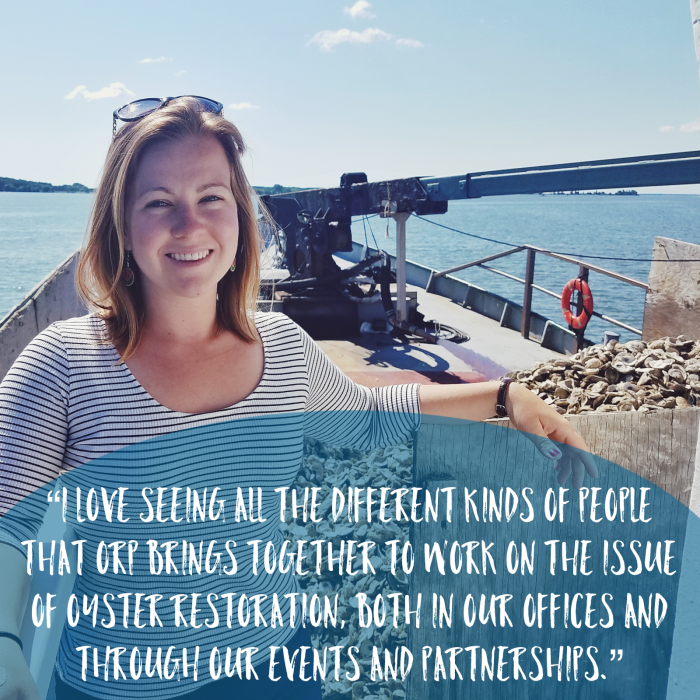 WHAT IS YOUR ROLE AT THE OYSTER RECOVERY PARTNERSHIP (ORP)?
Oyster Restoration Field Specialist
WHAT INSPIRED YOU TO GET INVOLVED WITH OYSTER RESTORATION IN THE CHESAPEAKE BAY?
Shellfish are, in my opinion, the most underrated avenue for coastal restoration. The average person knows about the importance of sea grasses, mangroves, and coral reefs but not much about oysters. I wanted to be in the Chesapeake, where oyster history and restoration are relevant to the common American and a big part of everyday life so that I can learn this story and participate in it.
YOUR AVERAGE WORKDAY:
On an average day during planting season, I get to the Horn Point dock in the morning, get on the Robert Lee planting vessel, and head out to deploy oysters at a predetermined site in the Chesapeake Bay and its tributaries. Doug West captains and I make sure we are collecting all the data we need in a consistent and proper way. When we get back in the early afternoon, I take these data and make reports and maps based on what we did on the boat, as well as work on some other data management projects.
THREE WORDS THE DESCRIBE THE WORK YOU DO:
Critical; Awe-inspiring; Complicated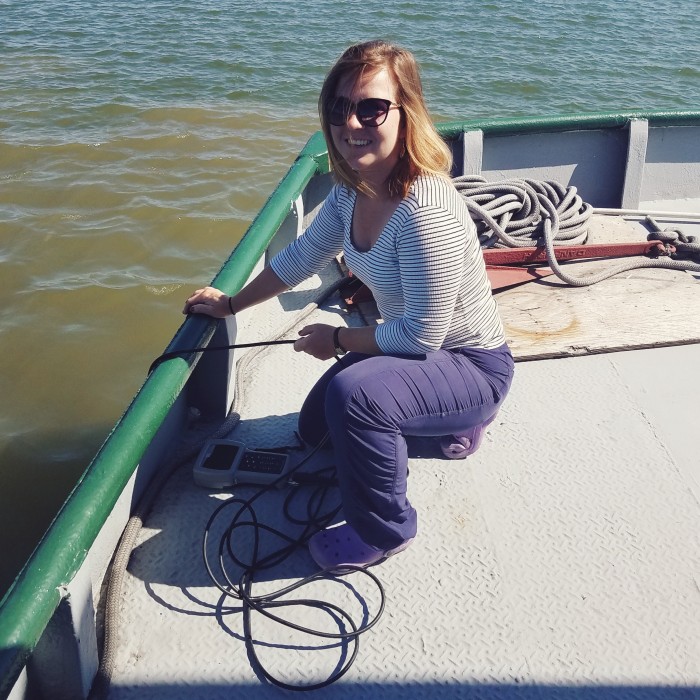 BIGGEST DAILY CHALLENGES:
Troubleshooting the software and hardware for data collection without Internet access. And swatting down all the flies in the boat cabin.
FAVORITE THING ABOUT WORKING FOR ORP:
I love seeing all the different kinds of people that ORP brings together to work on the issue of oyster restoration, both in our offices and through our events and partnerships. It's cool to see how many people want to help make our projects successful.
A GOAL YOU ARE WORKING TOWARDS:
My next personal goal is definitely learning how to translate science, aquaculture, and restoration experiences into digestible stories for the public. I plan on going to graduate school for science writing/journalism and using those skills to talk about shellfish.
A LITTLE BIT ABOUT YOURSELF:
I grew up in New Jersey and went to Northeastern University in Boston to get my undergraduate degree in marine biology. During my undergraduate years I spent a few months in Panama in a research program and nearly a year in Washington State doing research and working as a farm intern at Taylor Shellfish. I am a big proponent of local food and love to cook and garden when I'm not reading. Cheesy facts about me are that I love Pink Floyd and I'm a first generation American but third generation woman in STEM.