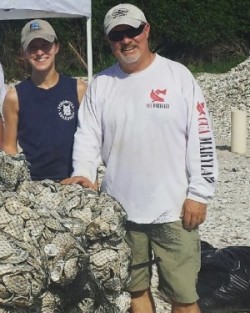 "I am a lifelong resident of Chesapeake City, MD, a small, historic town situated on the western end of the C&D Canal. I've been fishing, crabbing and hunting on the waters of the upper bay for as long as I can remember. My grandfathers both worked on the water in tugboats, and my own father and uncle spent innumerable hours with me on the water as I was growing up.
I was an elementary school music teacher in the Cecil County Public Schools for 35 years, retiring in 2012. Now, I travel with my wife, Deena, perform on French horn with my community band and a brass quintet, grow a large vegetable garden on a small family farm, golf regularly, and attend many regional concerts.
When I retired, I knew I wanted to do volunteer work that promoted Chesapeake Bay conservation and efforts to improve water quality and habitat. I started fishing much more in retirement, joined the CCA, and attended a talk by Bill Goldsborough, past director of fisheries for the Chesapeake Bay Foundation, on oyster restoration efforts. His workshop, in addition to my own reading about fishing and fish habitat convinced me oyster restoration is one of the most important water quality improvement efforts we can undertake, and I thought I might be able to help. I contacted the Oyster Recovery Partnership, and have been collecting shells at three, sometimes four, local Cecil County restaurants since 2013. I make runs in my pickup truck every 10 days or so, and on average I collect three or four bushels each trip, which is close to 100 bushels a year.
The younger of my two daughters is a wetlands environmental scientist, and she has a strong interest in water conservation. She has volunteered with me in bagging shells at the ORP facility. I also have a three year old grandson, and hope the work being done by ORP and the University of Maryland Center for Environmental Science will help ensure a cleaner, more abundant ay resource for him to enjoy as he grows up."
-Rob Hazel, ORP Volunteer